Product Description
Proper Spanish Tapas - A Number 1 Category Best-Seller!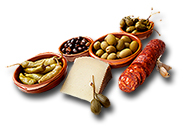 A Taste of the Real Spain.
The aim of this book is simple: to introduce you to the preparation, cooking and serving of the
traditional
tapas recipes of Spain.
Today, throughout the world, tapas has become a popular and healthy addition to the many food styles and cuisines available to us. Everyone is joining in and realising how pleasurable eating in this way can be. Wherever you live, you can bring a little Spanish sunshine right into your own home - right now!
There are hundreds of so-called 'tapas' recipe books out there but many of them are just collections of various recipes for small appetisers - to the author's mind this is not
Proper
Spanish Tapas.
This book concentrates solely on the traditional Spanish tapas which are found in bars all over Spain. Here you will find 32 of the best traditional recipes, divided into five sections:
Basic Ingredients - Things to have in your store cupboard
Egg & Cheese Recipes - Simple and heart warming dishes
Fish Recipes - A selection of scrumptious seafood
Meat Recipes - Making the most of meaty morsels
Vegetable Recipes - Not necessarily vegetarian nibbles
Traditional Spanish tapas is essentially hearty and unpretentious. Ingredients are fresh, flavours are robust and recipes are easy. You can keep it simple or you can make it as complicated as you like. But whichever way you prefer it, tapas is best served with an early evening drink among friends and lively company. You will not, I promise you, find a more pleasurable and flavour-filled experience anywhere in the world.
So pour yourself a drink, take your time and enjoy your traditional Spanish tapas to the full. There is no better way to sample the real essence of Spain's lifestyle and culture.
About the Author

Stephen Lean is a writer, website designer and Spanish food nut. He lives in Andalucia, southern Spain, which has allowed him to discover more about Spain, its people and the Spanish way of life. He is also the creator and webmaster of Google's top-ranked tapas website: Proper-Spanish-Tapas.com